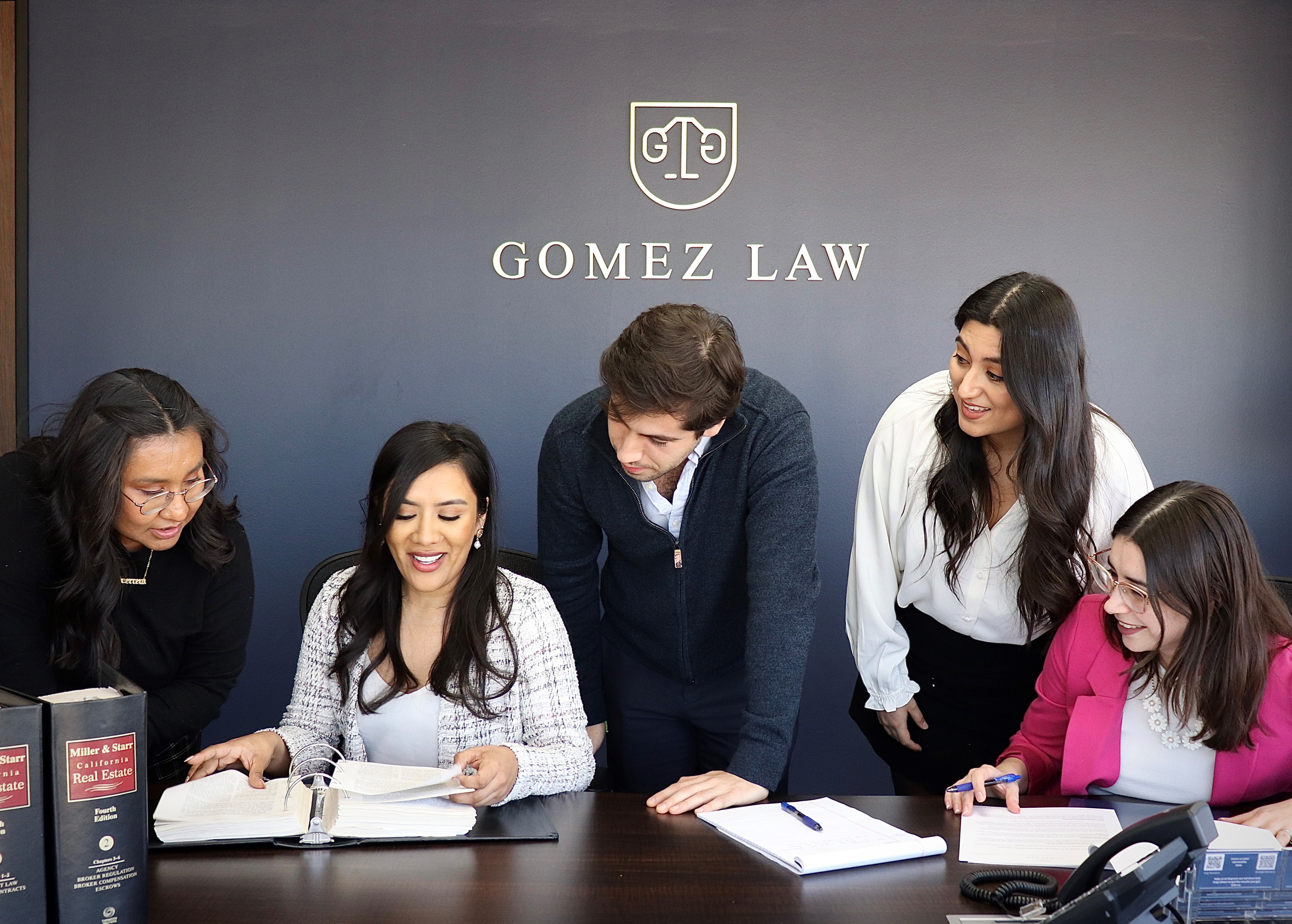 Our law firm focuses on Real Estate disputes. We are a growing team of legal professionals who employ a spirit of team collaboration focused on providing quality legal services and dedication to our clients and their cases. Most of our clients have been damaged by a bank, fraudster or other third party and need a dedicated law firm to help fight for them.
Send an email to careers@gomezlawla.com and attach a PDF of your résumé and a cover letter.
Current Open Positions:
---
Exceptional Litigation Attorney
We present an extraordinary opportunity for those who aim to excel in the legal profession, aligning with the highest standards of excellence and innovation. Our firm, ingrained with core values of Leadership, Empathy, and Continuous Improvement, is a renowned entity in the field of real estate law, highly sought-after for our unparalleled expertise in wrongful foreclosures, quiet titles, probates, and many related legal matters.
We embrace 'Leadership, Not Management' as a fundamental value, fostering a culture of innovation and excellence that empowers team members, including our attorneys, to reach their full potential. We look for individuals who inspire, guide, and uplift those around them, modeling the qualities that make not just a great manager, but an exceptional leader.
Empathy underlies our interactions and communications, both within our team and with our clients. We recognize the profound significance of understanding and sharing the feelings of others in our pursuit of offering top-notch legal services. Thus, we seek attorneys who can communicate empathetically, creating stronger connections and more tailored solutions.
The principle of 'Continuous Improvement' drives us to push beyond the status quo. We endorse an openness to feedback, learning, and refinement at both the individual and organizational levels. Candidates should demonstrate a commitment to this continuous growth, as this adaptability is key to thriving in a changing legal landscape.
Our current opening is for an experienced attorney with at least one year of litigation experience, ideally with a focus on real estate law. This individual will be a pillar of our team, adeptly handling a variety of real estate disputes and related litigation matters, while showcasing exceptional leadership in managing a team of paralegals and clerks.
The ideal candidate will:
Show exceptional analytical acuity, problem-solving skills, and proficiency in drafting and reviewing transactional documents.

Demonstrate the ability to conduct thorough legal research and provide sound legal advice.

Represent clients in court with confidence and poise, exhibiting exceptional communication skills.

Lead and manage a team of paralegals and clerks, maintaining an environment of excellence and continuous growth.
The following are requirements for this role:
Juris Doctor degree from an accredited law school.

A clear and active license to practice law in California.

A minimum of 1 year of litigation experience, including leadership experience managing a team.

Excellent communication and interpersonal skills, with a strong ability to work both independently and in a team environment.
Our firm offers a competitive compensation package, with a salary rate ranging from $130,000-170,000, and potential for growth and advancement. This opportunity is akin to the caliber of Harvard Law School, aimed at individuals ready to lead and influence the field of real estate law.
We look forward to hearing from those ready to align their ambition with our commitment to legal excellence. Together, let's shape the future of real estate law and uphold the high standards of our profession.
PARALEGAL

LAW CLERK

Responsibilities:

Serve as a liaison between client and attorney, including scheduling and conveying information to client, courts and opposing counsel.

Manage legal team's calendar including scheduling meetings, court appearances, depositions, trial conferences, mediation & case reviews.

Calculate, calendar, and track approaching deadlines.

Drafts legal documents including routine pleadings and motions, affidavits, and interrogatories, files motions and pleadings according to judicial procedures.

Researches and analyzes statutes, regulations, legal articles, judicial decisions, and other legal sources; provide written analysis to attorneys.

Prepares, organizes, stores, and retrieves case files, which may include evidence, exhibits, depositions, pleadings, exhibits, and other items.

Develops and maintains records regarding billable hours spent on specific cases.

Performs other related duties as assigned.

Pay rate: $25.00 hourly for Full-time hours along with Health benefits, Paid Parking, and Office Events.

Responsibilities:

Compiling legal research to assist lawyers with cases.

Drafting, reviewing, and editing documents for clarity and accuracy.

Assisting lawyers in the office and courtroom with trials and hearings.

Communicating with parties regarding trials and schedules.

Updating court calendars and schedules.

Maintaining the firm library in an orderly manner.

Pay rate: $25.00 hourly for Full-time hours along with Health benefits, Paid Parking, and Office Events.