Real Estate Law Attorneys in Los Angeles, California
You don't have to navigate a real estate issue or transaction alone. With knowledgeable counsel in your corner, you can resolve issues more quickly and even prevent future ones from arising. Located in Los Angeles County and looking for legal assistance? Our experienced real estate law attorneys are ready to help.
Schedule a Free Consultation
Gomez Law, APC
Real Estate Law Attorneys
As the CEO of Gomez Law, APC, Mark Gomez has dedicated his Los Angeles law firm to fight for the real estate rights of residents and businesses throughout the communities of Los Angeles County, California. Get in touch today for a free consultation.
Our team is comprised of an exceptional team of real estate attorneys with diverse experience and skills. When you're looking to buy or sell a home, facing foreclosure, or dealing with any other type of estate dispute, you can rely on us at Gomez Law, APC.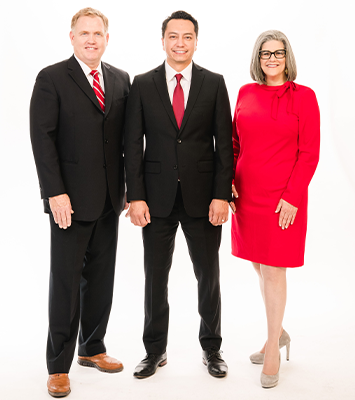 DON'T FACE LEGAL COMPLEXITIES ALONE.
Skilled real estate attorneys can make a difference.
Real estate matters in Los Angeles can become complicated very quickly. Our team at Gomez Law, APC
is well-versed in multiple areas of real estate law. You can trust us to navigate your
dispute or transaction with focus and efficiency.
Why Legal Advocacy Matters
Identifying Potential Issues

You likely don't deal with real estate matters every day, but our attorneys do. We can pinpoint and prevent potential issues that buyers or sellers may not be able to anticipate during their transaction process.
Protecting Your Rights

When navigating an important purchase or property dispute, you deserve to feel protected. Our dedicated team of real estate attorneys will safeguard your interests during each phase of your case or transaction.
Negotiating & Closing Deals

Don't settle for anything less than what you want. Our real estate lawyers are skilled negotiators with keen eyes for details. We'll do everything we can to craft an agreement or solution that aligns with your goals.
Seeking legal help can be an intimidating endeavor. Not with us. When you choose our firm, you're choosing attorneys who are both knowledgeable and personable.
Every client is different. Our firm and attorneys understand the importance of approaching each case individually, in accordance with your needs and objectives.
You deserve distinguished assistance. As a small law firm with multiple seasoned attorneys, we offer a level of resourcefulness and support that's difficult to match.
Comprehensive Real Estate Services for Los Angeles County
We strive to cultivate ongoing relationships with each of our clients.
Based in Los Angeles, California, we provide essential support and
services for residents throughout Los Angeles County. From real
estate transactions to landlord-tenant issues, quiet title actions,
contractor disputes, and more, we're here to advocate for you.