Estate Planning Attorneys in Los Angeles, California
It's never too early to start planning for tomorrow. When it comes to crafting an estate plan, you need legal guidance that's completely tailored to your goals. Get the support and focused attention you deserve — reach out to our estate planning attorneys at Gomez Law, APC in Los Angeles, California. We proudly assist individuals and families throughout Los Angeles County.
Schedule a Free Consultation
Gomez Law, APC
Estate Planning Attorneys
Our attorneys are committed to protecting what matters most to Los Angeles families. That's why we provide holistic estate planning services — to help our clients build and preserve their visions for the future through enforceable, customized documents.
The combined experience of our team spans many decades, and dedication to our clients is central to our approach. For distinguished and personable legal guidance, turn to our team of estate planning attorneys at Gomez Law, APC. Reach out today to begin.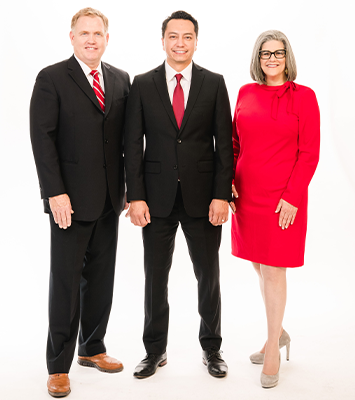 Why Do You Need an Estate Plan?
It's more than just a game plan for your assets.
A comprehensive estate plan serves as a roadmap for your loved ones to follow after you pass. Having the necessary documents in place will help clarify your wishes and sustain the legacy you worked hard to build. Get the guidance you need from our Los Angeles, California firm.
Common Estate Planning Documents
Wills

A will outlines your plans for how your estate will be distributed to your beneficiaries. To prevent any confusion amongst your heirs after you pass, it's crucial to have an updated and detailed will in place. Our attorneys are here to help.
Trusts

By establishing a trust, you can help your heirs avoid the probate process. Additional benefits include tax and privacy protection. We will lead you through the different trust options you have based on the size and complexity of your estate.
Powers of Attorney

Having a power of attorney in your estate plan allows you to appoint a person who would make decisions on your behalf in the event of your incapacity. Gain some peace of mind by taking this precaution — we'll provide the support you deserve.
Make the Most of Your Estate Plan
We're well-versed in estate planning law and can walk you through the various documents and strategies you can enlist for your own unique plan.
We want our clients to view us as indispensable resources. We'll gladly answer questions and explain important legal concepts as we build your plan.
Creating Customized Plans
Everyone deserves a comprehensive estate plan that's as unique as they are. If you live in Los Angeles County, we're happy to offer you our services.
Your Family's Future Matters.
Start Building It Today.
Thinking about the road ahead can leave you feeling overwhelmed. Our estate attorneys understand and want to grant you peace of mind. Through personalized advice and adept understanding of estate law, we can help you build a tailored plan that makes your wishes known and safeguards your legacy and assets. If you're in the Los Angeles County area, don't hesitate to contact us today.