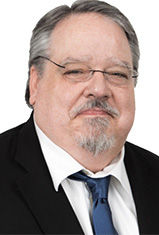 Phil Blende
Chief Operating Officer
Phil is the Chief Operating Officer for Gomez Law. He is responsible for oversight in running all the business aspects of the firm. Phil has been involved in the legal industry for the past twenty years in consulting roles in the Information Technology field as well as business consulting for law firms. Past employment positions include appointments as Chief Operating Officer for Fitzgerald & Campbell, Chief Operating Officer for Silver & Wright LLC, located in Irvine California, and Shoup Legal, APLC located in beautiful Murrieta, California. He also served in various IT Management roles for Lexxiom Inc., The Mossler Law Firm, and The Seideman Law Firm.
Prior to working full time for any law firm, Phil was the Chief Executive Officer (CEO) and Founder of ITEK Solutions Inc. which was an IT consulting firm that specialized in providing IT and business solutions to law firms in the San Bernardino County area. Phil also served as the Vice President of Operations for the International Consortium of Information Technology Professionals (ICTP).
Along with his experience, Phil brings a multitude of undergraduate and graduate degrees with him. He has his Bachelor of Science Degree in Technical Management, a Master of Business Administration (MBA), and a Master of Arts in Management. He is currently a Doctoral Candidate at Grand Canyon University in Phoenix, Arizona where he is pursuing a Doctorate in Business Administration with an emphasis in Quantitative Analytics.
Phil is a Veteran of the U.S. Navy where he served 6 years as a Naval Intelligence Specialist. After being honorably discharged from the Navy, Phil served as a police officer for several years serving in the Cities of Redlands and Monrovia.
In his off time (which there is little of), Phil likes to spend his time at home with his wife and their three cats Hayleigh, Mongo, and Tara. Phil enjoys riding his motorcycle, playing poker, as well as reading and collecting comics. He's just a big geek at heart.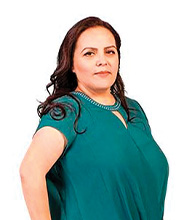 Beatriz Reyes
Office Manager
With over a decade of experience working in a law firm, Beatriz started her career working in one of the busiest bankruptcy firms in Los Angeles. If a case requires her attention to stay after hours she does it. Her passion and dedication are shown every day and clients consistently give positive feedback about their experience with her.
Experienced in both Bankruptcy Chapter 7 and Chapter 13 Beatriz shines as the office manager at Gomez Law, APC, ensuring various tasks and deadlines are followed up with. She is also especially skilled at communicating with clients and staff.
Beatriz speaks, reads, and writes Spanish Fluently. In her spare time, she enjoys cooking, spending time with her family, and reading.

Cesar Lossi
Mortgage Analysis & Intake Manager
Cesar Lossi is our client relationship specialist here at Gomez Law, APC. Cesar's role is to be the face of Gomez Law, APC when new clients call or come into the office as well as to help in processing loan modifications within the litigation setting.
Cesar has worked at numerous law firms prior to Gomez Law, APC, and was a manager with Wells Fargo with experience in the loan servicing department. His experience in helping clients with Bankruptcy, Real Estate, and Estate Planning allows him to communicate how Gomez Law, APC can help their clients. Cesar is fluent in Spanish and always professional.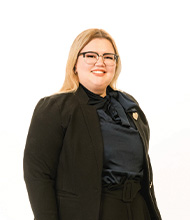 Christie Campos, J.D.
Law Clerk
Christie grew up just outside of Yosemite National Park and spent her summers working there. Her passion has always been helping others, and she began a career as a therapist before discovering that her true desire was to help others through legal advocacy. She moved to Los Angeles in 2018 and studied law diligently. She worked at the Justice and Immigration Clinic at University of La Verne, College of Law and was voted class representative for her college's Student Bar Association. After graduation, she worked at an immigration firm until she expanded her reach into civil litigation matters here at Gomez Law. Christie's unique experiences help her to be sensitive to clients' needs and to be a fierce advocate.
Outside of the office, Christie also enjoys painting, collecting new houseplants, hiking with her husband and dogs, visiting with family, and traveling.
Education:
B.A. - California State University, Stanislaus

MSW - California State University, Stanislaus

J.D. - University of La Verne, College of Law

Shayla Chavez, J.D.
Law Clerk
With a longtime passion for public service and interest in the practice of law, Shayla began pursuing a legal career at a young age in hopes of bringing meaningful change to the lives of California residents. Shayla grew up in Orange County, California prior to enrolling in Grand Canyon University's pre-law program in Phoenix, AZ. Upon completion, Shayla graduated Magna Cum Laude and received her B.A. in Political Science with an emphasis in Legal Studies and minor in Communications. Returning to California to study law thereafter, Shayla pursued her Juris Doctor degree at Pepperdine's School of Law. Since earning her J.D., Shayla has worked in employment law, personal injury law, and is currently assisting the attorneys at Gomez Law, APC on various real estate and probate matters.
In her downtime, Shayla enjoys playing acoustic guitar, researching current environmental affairs, and spending time with her family.
Education:
B.A. – Grand Canyon University

Major: Political Science

Minor: Communications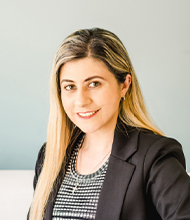 Nataleen Sorfazian, J.D.
Law Clerk
Nataleen Sorfazian is a recent law school graduate from Golden Gate Law School. She has experience working in different areas of law and is eager in meeting new clients and listening to their stories. Nataleen is fluent in Armenian and is always ready to learn, expand her knowledge and help in any way she can.
When she is not in the office, Nataleen is an outdoor enthusiast, enjoys refining her cooking skills and traveling around the world (with 24 countries already off her list)! She has a passion for meeting new people and learning about different cultures and traditions.
Education:
B.A – Westmont College

Paralegal Certificate -- University of San Diego

Master's in legal and Forensic Psychology -- University of California Irvine

J.D – Golden Gate University, School of Law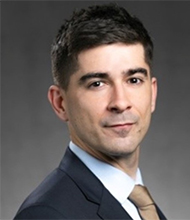 Drew S. Hennigan, J.D.
Law Clerk
Drew S. Hennigan is a law clerk at Gomez Law's Los Angeles Office. Drew holds a J.D. from the University of Oregon School of Law and a LL.M. in Bankruptcy from St. John's University School of Law. He is licensed to practice law in the State of New York.
Following law school, Drew served as the judicial clerk for the Honorable Robert D. Drain in the Bankruptcy Court of the Southern District of New York. As a judicial clerk, the matters he worked on ran the spectrum from complex chapter 11 reorganizations to individual chapter 7 and 13 bankruptcies.
At the conclusion of his clerkship, Drew was hired by an international law firm where he contributed to the firm's representation of the Official Committee of the Unsecured Creditors in the bankruptcy proceedings of the Commonwealth of Puerto Rico, the largest governmental bankruptcy in United States history. His contributions included writing a key memorandum on Puerto Rico's constitutional debt limit and drafting substantial portions of the Creditor's Committee objection to Puerto Rico's Government Development Bank's debt adjustment plan, which sought to modify billions of dollars in bonds and deposit accounts.
Outside of the office, Drew enjoys reading plays and novels, drinking coffee, taking walks by the beach, and watching Notre Dame football.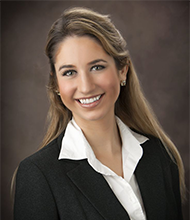 Alexandra Blair
Executive Assistant
Alexandra Blair is the Executive Assistant for Mark A. Gomez, Esq. at Gomez Law's Los Angeles office. Alexandra holds a Bachelor of Arts degree in communications from the College of Charleston, possessing real estate, sales, public relations, and marketing backgrounds.
Alexandra runs her consignment boutique, Retro Mod Consignment in her spare time. She also enjoys scuba diving, rollerblading, photography-related side projects, and word games.
Education:
B.A. – College of Charleston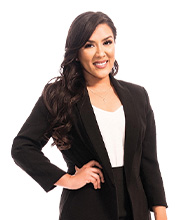 Carina Ochoa
Paralegal
Carina has years of customer service experience and is always going out of her way to help clients. She attended California State University of Northridge and Cerritos College pursuing a degree in Paralegal. It is her job to make sure clients understand the business side of legal representation and to coordinate with the attorneys and clients in order to provide effective and efficient legal representation. Her goal is to always accommodate people who need help and guidance with any issue she might be able to assist with.
During her free time Carina enjoys backpacking, gardening, and hiking.
Education: California State University of Northridge
Paralegal Certificate: Cerritos College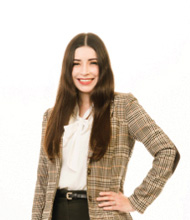 Susana Perez
Paralegal
Susana entered the legal field when she became interested in her husband's journey through law school. She previously worked as an immigration legal assistant for five years and has knowledge of family law. Prior to that, she worked as a marketing specialist for a real estate agent. Her priority is to get to know clients and make them feel welcome.
She officiates weddings on the weekends and loves to spend time with her family, especially her daughter. Her hobbies include cooking, gardening, and hiking with her family.
Education:

Guadalupe Marin
Paralegal
Guadalupe began her role as a Legal Assistant in 2015 with Susan Murphy at Advocate Legal by working on foreclosure matters. That is where she gained her vast experience in foreclosure litigation. She took time to care for her family in 2017. In 2018 she began working in immigration law drafting petitions, embassy documents, and declarations for interviews in the citizenship application process. She had a lot of interactions with clients at the immigration office for the purposes of interviews, intakes, and case management. Customer service was always a priority, and she continues to expand on her knowledge in paralegal work while still in school. She is on track to transfer to Cal State Los Angeles and complete her bachelor's degree in English and Paralegal Studies.
She is a mom to two boys, loves spending time with her kids and husband, and enjoys camping and off-roading.
Education:
A.A. – East Los Angeles College
Melissa Jenks
Paralegal
Melissa is a paralegal who specializes in the areas of estate planning and trust administration. Her work in this field began at The Law Office of Jack D. Brown over a decade ago, and it was there that her love for estate planning and trust administration developed. She also has a background in immigration law, investor hazard insurance claim management, and medical transcription.
Melissa takes pride in a job well done as well as attention to detail, which are necessary components of a successful estate plan or trust administration. She is also grateful to have many opportunities to be of service to families during some of their most difficult times and strives to perform her duties with compassion and integrity.
Outside of the office, Melissa enjoys being a soccer and baseball mom, listening to anything written by The Beatles, and spending time with family and her ridiculously adorable dog Olive.
Education:
B.A. – San Diego State University (Magna Cum Laude)

Liberal Arts and Sciences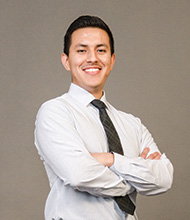 Bryan Arana
Receptionist
Bryan has exceeded every challenge he has confronted. Having many detail-focused positions under his belt, he wants to deliver only the best experience to clients. Bryan has been interested in law and helping others since childhood and hopes to practice law in the future to help under-represented communities. In his free time, he enjoys watching NFL games, listening to podcasts, and spending time with family.
Education:
El Camino College

UC Santa Barbara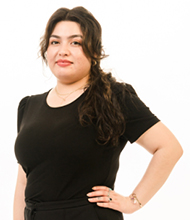 Britney Trujillo
Receptionist
Britney is a front desk receptionist at Gomez Law. In the past she dedicated her time to working at an animal rescue center, she volunteered to feed the community of skid row & in the last year, she spent her time caregiving for a child. Her empathy & patience makes her incredible with people and an asset.
Britney enjoys studying ancient mythology, traveling and experiencing different cultures, regenerating her garden & refining her culinary skills.